In September 2007 Wroclaw International School (WIS) started the implementation of the curricular frameworks of the Primary Years Programme (PYP) and the Middle Years Programme (MYP) of the International Baccalaureate. As of May 2011 WIS was the first and only school in Poland authorized to offer both the International Baccalaurete Primary Years Programme and Middle Years Programme. We have chosen the IB programme framework because it is based on a very attractive teaching model, the main aim of which is to help students to be active thinkers, willing to solve problems.
The PYP is designed for students from 3 to 12. Its components are: six transdisciplinary themes, six subjects areas, as well as transdisciplinary skills. The programme is flexible enough to accommodate the demands of most national or local curriculums and provides the best preparation for students to engage in the IB Middle Years Programme.
Here is an authorisation certificate for WIS as an international school teaching IB Primary Years Programme.
IB PYP Certificate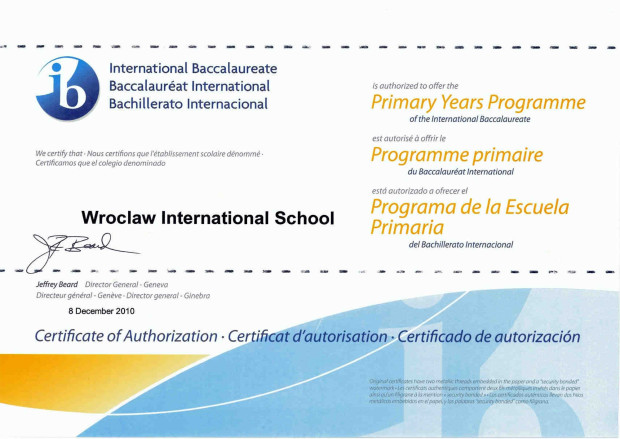 PYP Curricular Framework
By offering the Primary Years Programme of the International Baccalaureate, WIS continues the tradition of hundreds of schools across the globe, that have applied the best educational practices for decades.
PYP Subjects
The PYP identifies a body of critical knowledge for students in all cultures in six subject areas: English Language & Social Studies, Mathematics, Science & Technology, Visual & Performing Arts, Personal & Physical Education and Polish.