The PYP identifies a body of critical knowledge for students in all cultures in six subject areas: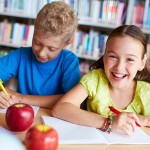 English Language & Social Studies
Language is central to a child's development. It is "fundamental to learning, thinking and communicating, and permeates the whole curriculum." (IBO, 2007) Our programme focuses on developing children's depth of understanding, fluency in communication and mastery of skills. Throughout the day, and in all subject areas, language literacy skills in Reading, Writing, Speaking, Listening, Representing and Viewing are incorporated as crucial tools for learning. Children learn to express their ideas, feelings and opinions, to support their thinking with sound arguments and research, and to use the language appropriate for formal and informal situations.
Mathematics
The Mathematics programme enables students to interpret the world around them with the development of strategies, and a body of knowledge, skills and attitudes. Learning Mathematics requires active inquiry that engages students and teachers in answering questions and in solving real life problems. It fosters creativity and imagination in the discovery of patterns of shape and number, the perceiving of relationships, the making of models, the interpretation of data, and the communication of emerging ideas and concepts.
Science, Social Studies & Technology
In the PYP, Social Studies is viewed as the study of people in relation to their past, their present and their future, their environment and their society. Social Studies encourages curiosity and develops an understanding of a rapidly changing world. Through Social Studies, students develop an understanding of their personal and cultural identities. Students inquire into and learn about globally significant issues in the Units of Inquiry. Each unit may focus primarily on Social Studies or Science, or may blend the two. The focus in Science is on "the exploration of the behaviours, and the interrelationships among, the natural, physical and material worlds." The scientific method is a model of inquiry which is crucial to the development of scientific understanding. WIS students are engaged in a Science process which encourages "hands-on experience and inquiry, and enables the individual to make informed and responsible decisions, not only in Science but also in other areas of life." (IBO, 2007)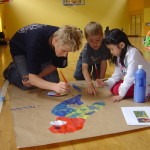 Visual & Performing Arts
The Arts are not mere "add-ons," but are essential aspects of our curriculum. We recognize that the Visual Arts, Dance, Movement, Drama, and Music offer children multiple forms of literacy with which they may interpret the world and represent their understanding. We enable children to use the Arts to understand concepts and ideas more deeply, and to share their new learning. Our Art and Music specialists work alongside classroom teachers to cooperatively plan and teach new topics of study, and to integrate the Arts with the PYP Units of Inquiry. Visual Arts instruction includes elements of design, art interpretation, and the development of Art techniques. The arts classes develop children's skills in verbal and non-verbal expression and include movement, dance, drama forms such as role play and mime, and performance. Our students pursue Music Instruction each week with a specialty teacher. During these classes, students learn the basic elements of music through listening, performing and creating music.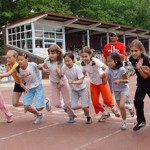 Personal, Social & Physical Education
The Physical Education department strives to offer a high quality programme in a safe, fun and challenging environment. The Physical Education staff exercise excellent communication and teaching skills. We nurture each student's growth and development in the physical, cognitive, and social domains through the scope and sequence of the Primary Years Programme (PYP). Our goal is for students to learn the value of intrinsic motivation to pursue a healthy and active lifestyle in an increasingly changing society.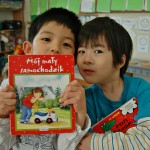 Polish
Every child benefits from having access to different cultures, perspectives and languages. Acquisition of more than one language enriches personal growth and helps facilitate international understanding (IBO, 2001). English is the language of instruction at WIS. We also offer Polish instruction from the age of four, and additional English support for students still mastering the English language. In addition, WIS operates a mother tongue programme after school to support native language practice.