The IB MYP consists of eight subject groups together with a core made up of Global Contexts, Concepts, Approaches to Learning and the IB Learner Profile. In the Middle School we offer a comprehensive and balanced curriculum within these eight subject groups.
Language & Literature
Language and Literature aims to develop students' listening, speaking, reading, writing, viewing, and presenting skills.
Language Acquisition
Language Acquisition is considered a language this is learned in addition to the school's language of instruction (English) or the student's mother tongue. Through this subject area we want students to understand different cultures and that there are different ways in which a person can live, view and behave in the world. Currently we offer Language Acquisition in French and Polish.
Science
At WIS we teach Science as an integrated subject from MYP 1-5. This includes the disciplines of Biology, Chemistry and Physics.
Mathematics
Mathematics at WIS covers the areas of number, algebra, geometry and trigonometry, statistics and probability.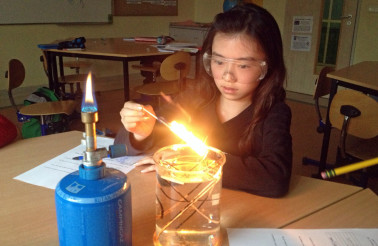 Arts
Through the Arts students are able to express their feelings, experiences and ideas through creating, performing and presenting. We offer Music, Visual Arts and Drama lessons at each grade level in the MYP.
Physical & Health Education
We offer a variety of sports. PE at WIS also allows the students to develop social skills and a personal engagement. The aim is to develop a lifelong appreciation of physical activities, health and wellness, both on a personal level and in relationships with others.
Design
In Design students use their creative thinking skills to solve problems. Through the design cycle the emphasis is placed more on the design process instead of just the final product or solution.
Individuals & Societies
Individuals & Societies includes disciplines in humanities as well as social sciences. They focus on examples in the real-world with research and analysis playing an essential role in this subject area.