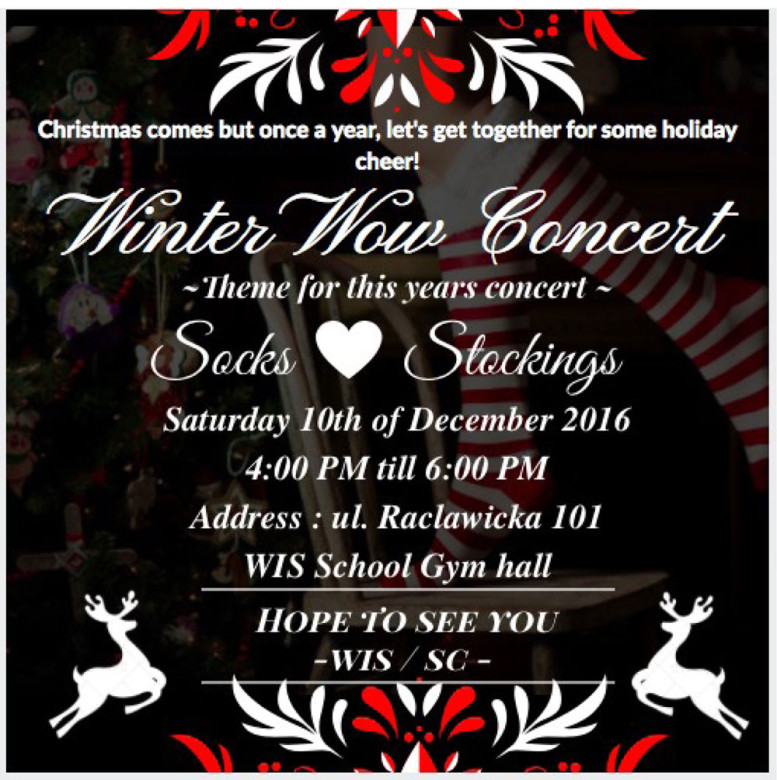 30-11-2016
Dear WIS Parents,
The Wroclaw International School Student Council is delighted to invite you and your family to celebrate the 2016 Winter Wow. This evening is a wonderful opportunity to share and celebrate the musical talents of our student body and to enhance the community spirit of Wroclaw International School.
The Winter Wow provides your children with the opportunity to celebrate our host countries traditions and to celebrate the end of the 2016 academic year. The event also provides the opportunity to enjoy a variety of activities and to develop relationships with our student, parent, and teacher body.
This year we are also delighted to welcome as our special guests, the children from the Wiosna Orphanage. It is a real honor to celebrate our first Winter Wow in the Raclawicka Campus with our friends from Wiosna.
The theme for this year's Winter Wow is "Socks and Stockings". Due to our event being held in our new gymnasium, outdoor shoes are not allowed for students, teachers, or family members. We ask for attendees of this event to dress formally and wear seasonal socks or stockings to help create a truly special and festive occasion. Below you will find more details in regards to the student dress code.
Kind Regards,
Richard Begent, Head of School
Student Dress Code Details
Girls: seasonal/festive socks or stockings, white blouse, black bottoms (skirt, trousers), red or green accessories (ribbons, scarf, hat, vest, sweater, etc.)
Boys: seasonal/festive socks or stockings, white shirt, black trousers, red or green accessories (tie, bowties, scarf, hat, etc.)
Shoes can be stored in the designated areas next to the gym or in your child's locker.
There will also be a designated coat drop off area